Click here for link
to Adriene's website for more details…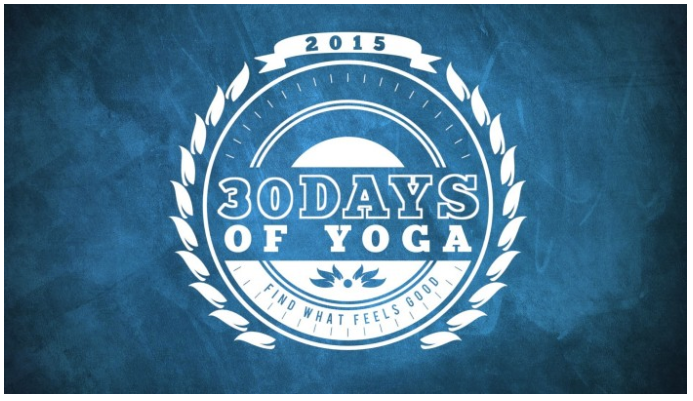 image from Adriene's webpage
…30 Days of Yoga…
Getting back to myself and taking stock of what's important. Yoga has been a way for me over the past few years of a way to reconnect and relax. Over the Summer and my time off, I really took off with my practise and loved being able to practise on a daily basis. Since starting my PGCE I have found that my practise has taken a back seat. So I've decided to start the 30 Days of Yoga mission, which has been compiled by Adriene from Yoga with Adriene. Now, I follow this woman's videos on Youtube and love them. She puts together some wonderful routines and practises that range from detoxifying to gentle flow routines. When I saw this mission pop up on her Instagram feed I knew it would be perfect for me. I have seen a few of these packages flying around as they do for the coming new year. But for me I wanted something that I knew would be in keeping with my original ideas and thoughts on health and well-being.
If this is something that you think you might be interested in, then click the link at the top of this post for further details. The best part about this programme is it is for free. The only thing that is asked of us is our commitment and a willingness to try new things, and push ourselves a little further. Plus what better way to start this programme can I have with my new yoga pants and all my lovely yogi tea drinks to help shift some of the unwanted toxins in my system. That's not to say I've let myself go over the festive period, I think I've just enjoyed relaxing and not feeling pressured to do stuff. Having this two week break, where Uni and work has taken the back seat, really helped me put things back in their right place. Equal the balance of things. I don't necessarily think we have to wait until the New Year to begin our journey to good health. I feel it should be something that's in our thoughts all the time. Maybe it's because the idea of a new year, a new start is more appealing and I can totally see that.
So from the January the first I will begin my 30 Days of Yoga, however before that I have already started thinking about my food and went for my first run in, oh I don't know how long.
Everyone have a fab and prosperous New Year!!!!!!
xxx